SUMMARY
While Saudi has been securer than other parts of the world in their food supply chains through the peak of the pandemic, food security and water scarcity continue to remain important topics for the government. What's more, the World Health Organization's prediction that by 2025 half of the world's population will be living in water-stressed areas. This further underscores the need to protect the resource. As the Kingdom's population grows, the pressure on clean, usable water remains high. Innovating water supplies, especially for agriculture, is the need of the hour.
The solutions to some of these pressing issues lie not in sourcing more freshwater—a resource already in scarcity in Saudi—but in using existing water resources in smarter ways. This is where greenhouse farming, especially desert greenhouses hold huge potential by innovatively using saltwater in new ways.
In this article, we discuss the pros and cons of operating hybrid greenhouses (especially saltwater greenhouses), highlighting areas of profitability and growth in the industry.
INDEX
THE POTENTIAL OF DESERT GREENHOUSES: PRO'S AND CON'S FOR YOUR AGRIBUSINESS
While food security is an important issue for all countries, not just Saudi, Vision 2030 puts it on the agenda for governance in a big way. The agriculture development strategy under Vision 2030 takes a multisectoral approach that aims to ensure food security, produce comparative and competitive agriculture commodities, and develop clean, safe, and sustainable agriculture. It also undertakes a gradual shift to more modern ways of growing crops to build a resilient and productive local agricultural economy that links with rural development and farmer growth.
The Covid-19 pandemic has not only highlighted the weakness of international agricultural supply chains, but also underscored the importance of food self-security for Saudi. While the climate of the region cannot be changed, the country is undertaking extensive research and investing heavily in upgrading its agricultural infrastructure, so that farmers and agricultural businesses are making smarter use of existing resources.
In this regard, Saudi is utilizing all available advances in technology to secure a more resilient agricultural future. These include:
More efficient use of agricultural water through smarter irrigation methods
Agricultural automation, incorporation of IoT, smart sensors, drones, and optimal use of data across farming enterprises and supply chains
Heavy infrastructural investments in desalination plants
Controlled environment agriculture, hydroponic, and aeroponic farming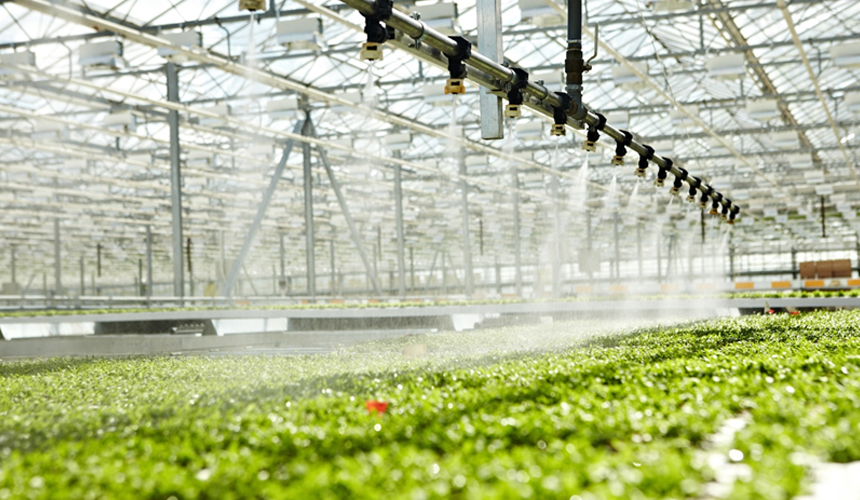 Meeting water demands from greenhouse farming
Saudi Arabia has an ample source of seawater. By 2050, the country hopes to move to a 100% renewable energy-based system by integrating the power sector with the growing desalination sector. In this way, not only will the Kingdom be able to achieve 100% renewable energy power systems by 2040, but it can also meet its increasing water demands through seawater reverse osmosis (SWRO) and multiple effect distillation (MED) desalination plants.
By making every drop of available water count through new farming methodologies, Saudi's agricultural sector can produce two-to-three times more yields, save energy, and optimize resources. And the best way to do this is through environmentally controlled desert greenhouses.
Controlled Environment Agriculture
Controlled environment agriculture (CEA) is a system of farming that regulates certain aspects of the environment including temperature, humidity, carbon dioxide, light, and nutrient concentration, to reduce pests and plant disease, while providing optimal growing conditions for crops.
CEA greenhouses also:
Increase efficiencies
Produce more yield
Are a more sustainable way of farming
Combining technologies like solar panels for energy efficiency, seawater technologies, low-energy desiccant cooling, salt-tolerant edible plants, and algal biotechnology to CEA, farms can create new-generation green complexes that have the potential to produce up to 20 times the amount of crop as compared to a similar-sized soil plot.
By combining automation, protection screens, systems for irrigations, renewable energy, and cooling and heating, controlled environment greenhouses hold the potential to deliver out-of-the-box farming solutions to Saudi farmers.
Hybrid greenhouses
Climate-controlled greenhouses are structures that allow all the environmental controls of an indoor ecosystem with the added plus of natural sunlight and lowered cooling costs. They can function both as vertical farms and as a greenhouse, depending on whether the roof to the structure is open or closed. A hybrid greenhouse can also be built with a blackout system (constructed right into the greenhouse structure) to allow added control over sunlight. Combined with smart systems that can monitor plant transpiration and humidity levels, hybrid greenhouses can be programmed to use energy efficiently.
In extreme temperatures like Saudi, hybrid greenhouses not only maintain an atmosphere that mimics a cool humid oasis, but also provide cover from hard winds and excessive heat. This allows conditions where multiple varieties of plants and vegetables can be grown. Fleshy fruits like papaya and mango, salad leaves, eggplants, amongst others, can easily be grown in controlled greenhouses because of the structural and environmental protection provided. Without that, crops like those mentioned above require large volumes of water to grow, making them unsuitable for farming in Saudi.
Complexity of functions

Modern greenhouses are becoming more and more complex. In Saudi especially, greenhouse construction and technical installations need to be executed perfectly to ensure that they are specific to plant growing climate conditions and crop requirements. This means incorporating the following facilities into greenhouse structures:

Climate screens: Climate screens help save energy, protect crops from sun damage and create the right climate for crops.
Renewable energy systems: To take the load off energy consumption and to reduce costs, modern-day greenhouses use alternative energy sources, such as solar panels, wind energy, and geothermal energy to power themselves.
Irrigation systems: As water is a precious resource, hybrid or traditional greenhouses use precision irrigation, with water recycling functions.
Heating and cooling: Modern greenhouses systems provide climatic control to create environmental conditions that facilitate optimal plant growth.
Process automation: Greenhouses operate through automation—from irrigation, climate, to energy generation. Additional digitalization can also be added to processes—sensors on plants, in water systems, and the air can further optimize automation functions.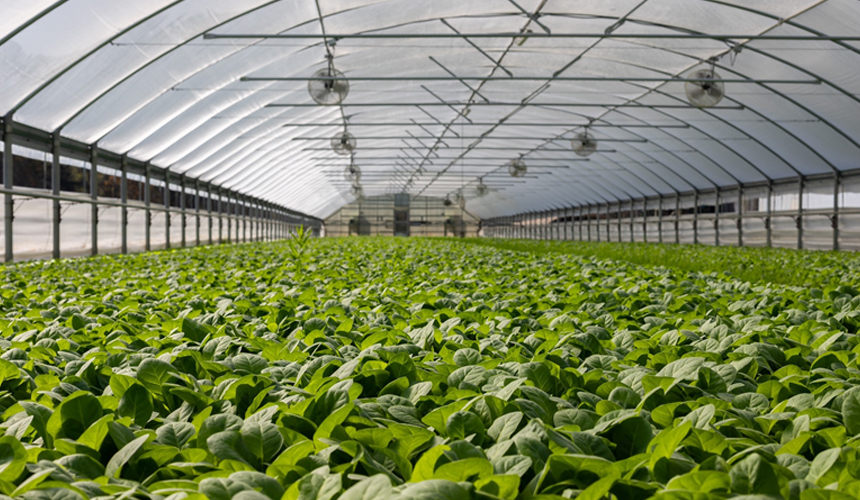 Kinds of greenhouse structures suitable for desert farming
Depending on the plants being grown, some outdoor greenhouse options include the following:
Polytunnel greenhouses: Polytunnel greenhouses (or multi-span/multi-tunnel greenhouses) are designed for temperate to cooler climates. However, they allow for modifications that can make them suitable for all weather conditions. The structures are easy to install, offer good ventilation, environmental protection, and resistance to high winds.
Gothic greenhouses: This type of greenhouse is designed for extreme climates and all crops, especially for suspended horticulture. This kind of greenhouse construction is widespread across hydroponic farms, mainly due to the large capacity it offers for climate control.
Tropical greenhouses: Tropical greenhouses are ideal for growing crops in a tropical climate with warm temperatures and high humidity. Their slanted-roof design provides effective roof ventilation and is usually fixed to protect crops from strong winds.
Tunnel greenhouses: Tunnel greenhouses are specially designed for small areas where short crops like vegetables or staking creepers are being cultivated at low height. These greenhouses are economic since the structure is easy to install and transfer.
Sheet greenhouses: Sheet greenhouses are like warehouse structures that can be used for multiple agricultural applications—from use as irrigation huts, housing filtration, and fertilizer tanks, to farming crops through aeroponic or hydroponic methodologies.
Using seawater to power and irrigate desert greenhouses
One fact has become clear. If Saudi hopes to build a local, independent, and resilient farming economy, it will have to do so with the support of greenhouses and smart agricultural tools. Even with seawater available as an infinite resource, farmers in the Kingdom need to use it in new and innovative ways to reduce their costs and carbon footprint.
This is where projects like the recently launched KAUST saltwater greenhouse pilot facility hold huge promise. The enterprise is growing salt-tolerant, non-GMO cherry tomatoes through hybridization and grafting techniques in an engineered saltwater greenhouse. The greenhouse facility utilizes unique climate control and cooling techniques powered by saltwater and smart control systems to save 80-90% freshwater. The enterprise also consumes two-to-six times less energy than a traditionally cooled greenhouse and is being used as a template for wider use across the Kingdom.
Listed below are some of the key highlights and learnings from the project that can be applied to other farming enterprises.
What makes seawater greenhouses especially ideal for Saudi is the way they reuse water with adapted pad and fan technology. By pushing air through layers of water-soaked corrugated card pads with the help of fans, seawater greenhouses use brine to cool the air. This process produces vapor that not only adds moisture to the greenhouse but also helps lower temperatures by 15 degrees. Experts believe that that seawater is more effective than freshwater as brine has both a higher boiling and freezing point than freshwater making it more effective as a coolant.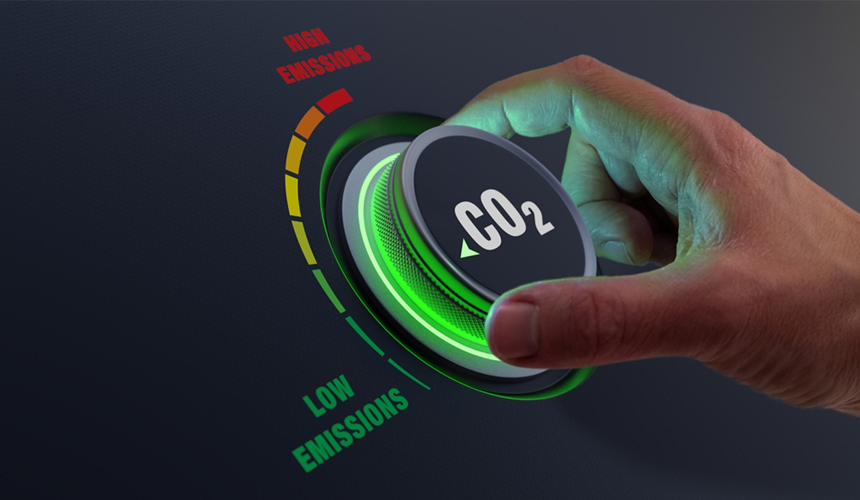 Not only can seawater be used to cool greenhouses with brine, but as an added plus the process is also eco-friendly. Traditional desalination is both costly and returns huge amounts of salty brine into the sea, disrupting fragile ecosystems. In such a cooling model, leftover salty brine that isn't used in the cooling cycle is evaporated and made into salt. The process is also helping farmers mine elements like lithium, cobalt, and magnesium from the brine.
Saltwater greenhouses are also being set up as solar-powered establishments—further reducing the carbon impact for farmers.
In addition to their environmental benefits, saltwater greenhouses can provide an enormous economic boost to farmers. Using fresh water produced from seawater and brine as a coolant now makes it possible to grow fruits and vegetables in Saudi. These crops would have been previously impossible to sustain in desert climates without huge environmental and financial costs. Vegetables like cucumbers, tomatoes, salad leaves, herbs, peppers, carrots, and eggplant can now be easily planted and grown in bulk in greenhouses. Similarly, planting and growing strawberries, red raspberries, and fleshy fruits for local consumption is now a viable option for Saudi farmers. The prospect holds huge potential for farmer growth and agricultural self-sufficiency. It gives the country a chance to build domestic capacities and rely less on imports.
Pros of desert greenhouses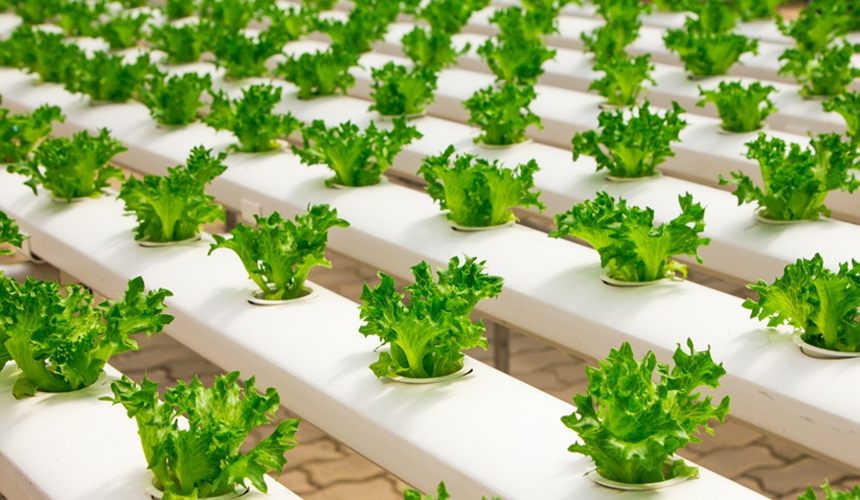 Undoubtedly, seawater greenhouses are a sustainable way of producing crops in hot, dry regions. They also have the added advantage of:
Seawater greenhouses can help farmers produce crops all year round without worrying about the temperature.
Low resource requirements
Seawater greenhouses run on seawater and sunlight, both of which are in ample supply in Saudi. The control system, pumps, and fans are powered by electricity produced completely by solar power.
Seawater greenhouses run on a sustainable system that is clean, efficient, and elegant in design. The honeycomb evaporation filters naturally help water enter the atmosphere. As they also keep out pollen and pests that are killed by the saline water, desert greenhouses do not need any pesticides to protect crops. This makes them a viable option for organic farming.
Add to the circular economy
Desert greenhouses can pump back nutrients harvested from the brine to fertilize crops or make gourmet salt crystals to sell in consumer markets.
As desert greenhouses produce their own fresh water and use no fossil fuels or pesticides, their operating costs are 10 to 25% less than those of a traditional greenhouse. Similarly, the fixed costs are also 10 to 15% lower because these greenhouses do not need to purchase cooling, heating, or desalination equipment. Lastly, because they are usually built on cheap land where little can grow, they can help bring barren territories of the Kingdom into cultivation.
Cons of desert greenhouses
Despite the positives of desert greenhouses, there are still many challenges that need to be addressed, including:
To be a viable enterprise that benefits from economies of scale, desert greenhouses need to be large-scale operations, with on-site seawater storage water wells and massive solar fields. This requires huge investments of finances and time—both of which are not easy for small farming establishments.
Lack of training and experienced operators on site
Management of solar panels and seawater pads requires expertise from operators on site. These are technical skills that are required on top of farming experience. A lack of training and experience is also a deterrent to widescale desert greenhouse deployment.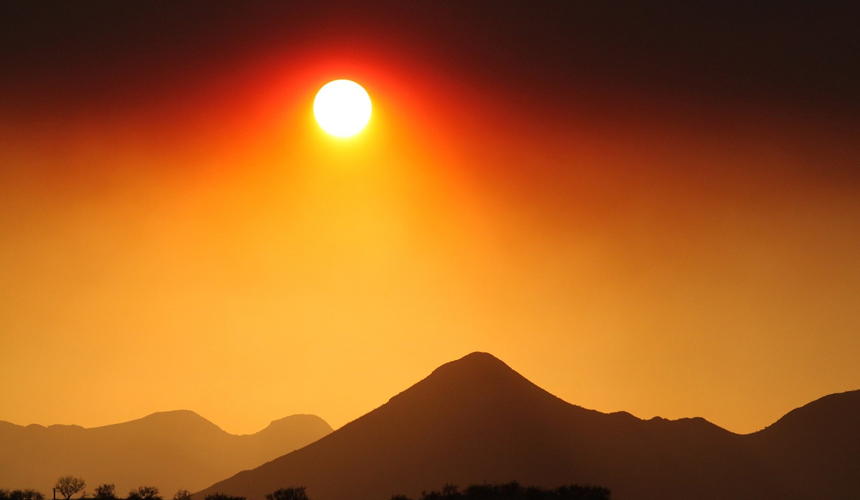 Terrain and climate challenges
Desert greenhouses cannot be built anywhere. One of the biggest challenges in Saudi is the dust and sandstorms that constantly cover up solar panels and get into exposed machinery. This can raise the incidental and accidental costs of desert greenhouses.
While experts and academics agree that the most viable option for agricultural self-resilience in Saudi has to include greenhouses, translating this vision to grassroots farmers and agriculturalists remains a challenge. Moving away from traditional agricultural practices requires mass education, awareness, and incentives. Additionally, desert greenhouses are also seen as a threat to existing agricultural practices and policies.
Most experts agree that the future of Saudi agriculture must be more out-of-the-box and fresh-water dependent. With limited water resources and a growing population demanding more food, we need smart solutions that can successfully take us into the future. This is where desert greenhouses can offer results for the Kingdom. They can boost both productivity and bolster farmer socio-economic development. They can help Saudi not only meet its agenda to reach food self-sufficiency but can also create more jobs while being good to the environment.
For more information on desert greenhouses, their scope, and potential, get in touch with Agri or email hello@agri.com.sa.